Agape Christian Fellowship
"There's an incredible amount of love and deep, deep friedships and bonds that only Christ-centered relationships can have."
Agape Christian Fellowship, one of the newest Christian groups on campus, originally began as "Korean Christian Fellowship." However, the name soon changed to ACF, and each year more and more non-Korean students join. This fellowship meets both on Friday evenings on campus, and on Sunday mornings at the Rochester Korean United Methodist Church. The Sunday service, made up of college students, graduate students and young working adults, is conducted by Pastor Tom (an Italian). In contrast, their Friday meetings are generally student-run. In addition to those meetings, ACF also has small group Bible studies available at the beginning of each semester. Finally, there are different events and activities scheduled throughout the semester, sometimes jointly with InterVarsity Christian Fellowship. The following quotes are taken from the student questionnaires and the interviews conducted with students and pastors.



---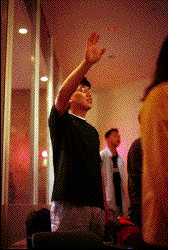 "This group is deeply rooted in the truth - the Biblical truth... We are open to worship, praise and serving our Lord in ways that are led by the Spirit."